Knowing who you are is one of the most important things that will inspire you to Move, Change and Believe every day. The philosophy we play is a funny concept. Some people think it means how something looks. But If you dig deeper however, it is really how it works. This is where designing active mind differs from designing traditional study methods.
People nowadays usually spend days doing exactly what their personalities will do in their lives – get up, workout, work, running errands and meeting friends for Brunch – to ensure that what we act is what we deliver.
Importantly, we tell you the true insight that might not be seen at first glance or do, but that you will appreciate every second that you have it against your mind. What you think is your message to the world about who you are and what you stand for. When you join our event, you are also making a statement that you aspire and work hard to get the most out of every day through Active Thinking.
Join us at Kowloon Park for a special playgroup with some of interesting people. We'll explore everyone's personal interest and personality, exchange the information of how each of us keep pace with the dynamic landscape to live our lives.
Places are limited so be sure to grab your chance today!
We have personal class and group seminar.
Reservation for Personal / Group Classes can be made up to 2 days in advance based on your schedule.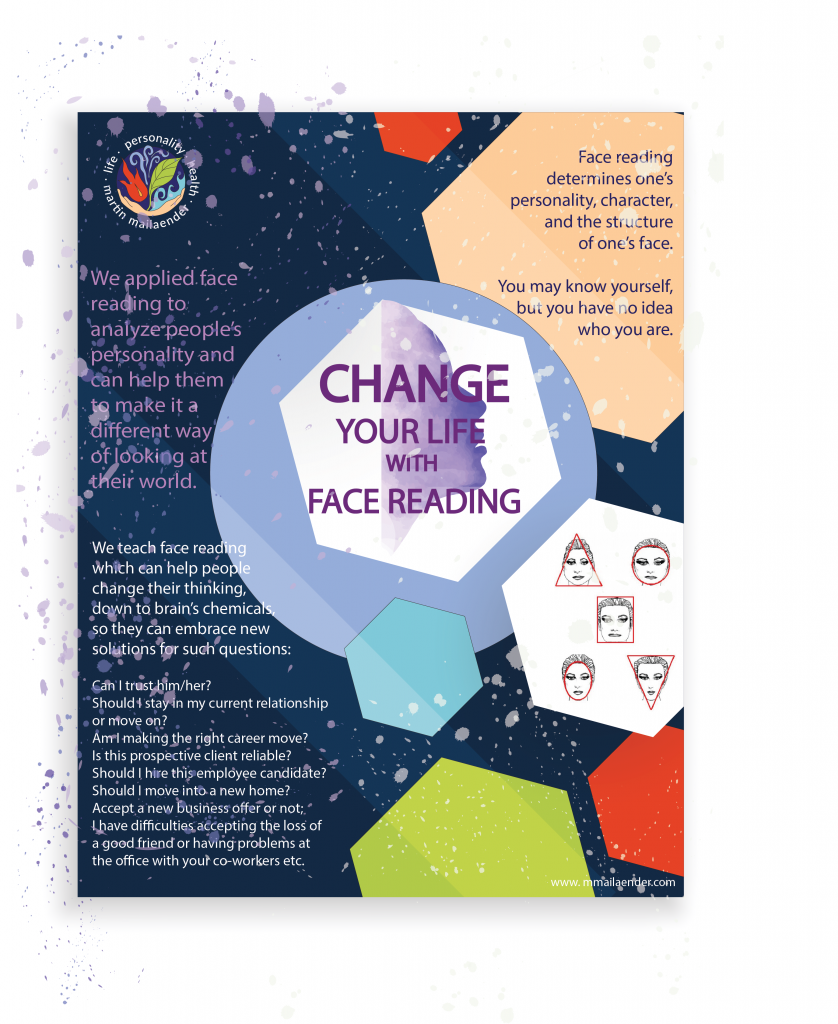 Face Reading Techniques: Your Face is an Open Book.
Most people think they can control how they present themselves to the world, and for the most part, that's true. We can dress a certain way to look professional or casual, and we can style our hair in such a way that will impress our boss, or our date, but there's one thing we can never change (at least not without some plastic surgery), and that's our face. 
Love it or hate it, we're stuck with these eyes, cheeks, chin, and nose, and not only is your face the first thing that the world will see, some people will even be able to tell all about your personality just by your facial features. Try as you might, anything short of a surgeon's scalpel can't change these tell-tale signs of the inner you.
Today, we are discussing these face reading techniques, also known as physiognomy and personology. These techniques have been around for quite some time, and have had different applications as time went on. We here teach you to interpret yourself and the others mental faculties and character traits. If you're curious to learn more about the messages we send unconsciously, this course on the secrets of body language, and this article on facts about body language will give you a better idea of what you may not know you're telling the outside world.
We have personal class and group seminar.
Reservation for Personal / Group Classes can be made up to 2 days in advance based on your schedule.
We have seminar every Monday. (English with Chinese translation)
L P H |
Danger Of Spirituality Without Self-reflection
What you will learn:
An inner exploration to trace the sources of your emotional behavior with the resolve to self-consciously structure your personality and its subconscious.
因為高層次靈性的東西,往往比較深沉,如果缺乏系統的知識體系,好比走入迷宮,越走越亂,越走越遠,然後越來越迷失,最終精神崩潰或許心智受損。
課程目標:教大家如何真正地學會控制自己,讓自己去追隨一條正確的路。成為更加有靈性而精神自由的人。
L P H |
Clarity Right Decision
What you will learn:
Clarity in mind and right decisions are the one of the most important we should learn and do in our lives. We will discuss how to feel the difference between right and wrong.
大腦清晰的思維和正確的決定在我們日常生活起著非常重要的重要。
課程目標:
我們教授如何讓自己的思維清晰,和正確、錯誤的感覺是什麼和如何感受區別。
L P H |
Why and how should we be good personalities.
What you will learn:
Your personalities actually attract the type of people that you like and you don't like everyday. The key is how we really change our negative personality and build a personality that you can feel confident in and comfortable with.
你的性格在日常生活中,往往吸引著一類人。
課程目標:
我們教授如何區別真正性格好地人,並非常清晰地教授為什麼和如何做一個性格好的人。