How your looks betray your personality and health
We can tell a person's character from their appearance and constitution.

What we see in a face can give us a glimpse of someone's personality or even help to know their destiny.
And our art is more subtle but no less fascinating than its old incarnation.
The idea that a person's character can be glimpsed in their face dates back to the ancient Egypt.
We call it as "Face Reading".

We explain "who we really are" in a different way to look at people's personalities through four elements - fire, air, water, earth, rather than type-based model.
We are more than just a pretty face. It turns out the shape, size and even colour of our looks can relay some very important information about our personalities and health.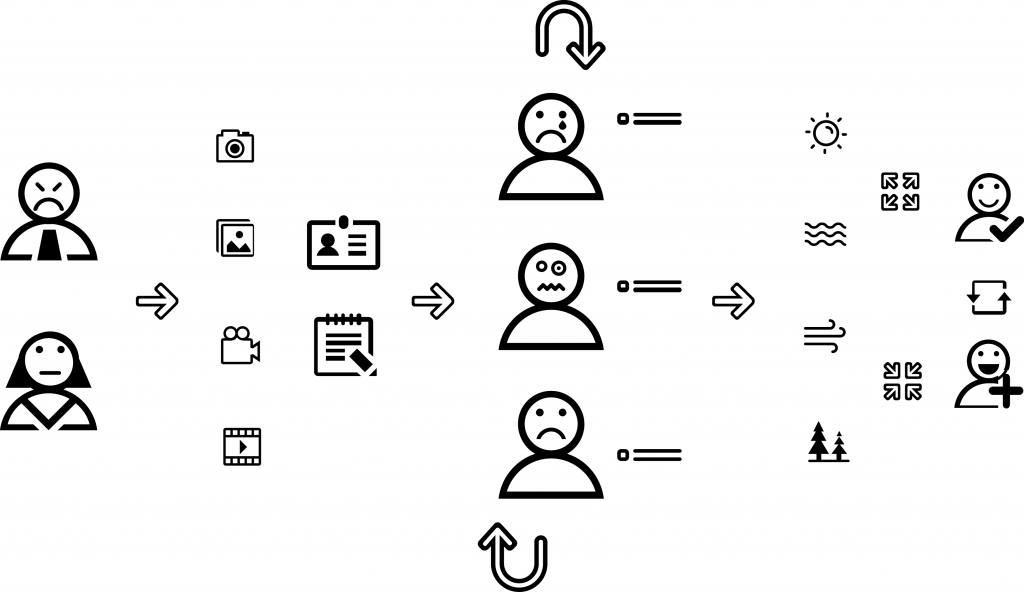 We describe 4 elements personality aspects, when combined, define the personality through picture or in person with Mind, Energy, Nature, Tactics, and Identity.
After go through the personality aspects, we then help you to define who you really are, your roles in your situation, and our strategies and solution. Any this has allowed us to help hundreds and thousands of people to solve their problems from the roots.
People said our personality type analysis is a 'freakishly accurate' description
of who they are and why they do things the way they do...
Elaine
"I was honestly shocked how accurate it was. I teared up a bit because it was like there was a person looking inside my mind and telling me what they saw."
Stella
"Martin is a problem killer. What he did is just to read people which no one can do this."
Shino
"I can't believe how accurate this was... Word for word. I never felt so understood. I thought I was the only one of my kind."
Anny
"What a excellent description of my personality types, thanks to bring my life back with showing who I really am."
John
"It is undeniably surprise how the description and traits nailed me so thoroughly. Wish I had known about my personality type 20 years ago, that would have saved me much grief."
Kitty
"How Martin read my face/ life is extremely accurate. The descriptions for the personality types and my relationship are extremely interesting as well."
We help to check 3 things by just reading the face
Face reading, is an ancient art of analyzing a person's character based on their facial features.
Every facial feature – such as narrow eyes, big nose, long chin, thick eyebrows etc. – has a psychological meaning.
Face reading is more than just learning about a person's characteristics.
We are used to read faces in their diagnostic practices.
We discovered that the face is like a hologram, and each internal organ and energy meridian, is connected to a specific area on the face. 
The first signs of any health problems will be revealed in that specific area of the body. 
Today, Martin has been practicing face reading to detect illnesses in a patient for 27 years already.
It can also give you a general idea about your fate:
past, present, and how to change & create the future.
It is possible to actually see how a person's life will turn out
– starting from their childhood until their transition – just by reading the face!
Handle our personalities and solve our problems
We've spent more than 27 years providing strategies and solution.
Self-explanatory. An outline of what to expect from your profile, and how it'll help you. Get ready to dig in!
2. A Short History of Personality
Learn how the concept of personality types has evolved over time and the story behind our theory, including all traits and face/ constitution.
3. Motivation and Self-Esteem
Each personality type has something unique and valuable to offer – yet the road to fulfillment is bumpy. We want to help you find your calling.
Discover how to leverage your traits to grow as a person, and get where you want to go regardless of the bumps in the road.
5. Romantic Relationships
Discover how to leverage your traits to grow as a person, and get where you want to go regardless of the bumps in the road.
Learn how to find and develop meaningful, fulfilling friendships with people belonging to different personality types.
Discover your strengths and potential as a parent – including the analysis of the challenges you're likely to face with different child personality types.
Explore how you learn at various stages of your life and which of your personality traits can help or hinder you when learning.
9. Career and Professional Development
Get better at navigating the professional world and achieve your professional goals without compromising your integrity.
Our faces aren't just the product of our biology.
We can't change our genes or our hormones – but by cultivating our personality and sense of self-worth, they may begin to mirror something far more important.
We also help you to understand the personalities of your lover, family members, friends, co-workers, boss etc.